AWARD-WINNING WOOD STOVE
The Ideal Steel Hybrid Wood Stove was developed in 2013 as Woodstock Soapstone Company's entry in the Woodstove Design Challenge. The Design Challenge had 14 finalists from 5 countries competing for a $25,000 grand prize awarded for the best overall performance in 5 criteria: affordability, efficiency, emissions, innovation and market appeal. The Ideal Steel Hybrid Wood Stove was the grand prize winner! Click here to read about the Ideal Steel Hybrid in Popular Mechanics Magazine.
HIGH-EFFICIENCY WOOD STOVE
The Ideal Steel Hybrid Wood Stove EPA2020 tested efficiency of 77% and average emissions of 0.89 gm/hr. It will easily burn 12-14 hours, and will heat large areas comfortably. It's high efficiency means that it will produce up to 131,000 more BTUs per day than a standard non-catalytic stove, making it one of the best wood stoves on the market. Click the image below to read more about our hybrid technology.
AFFORDABLE WOOD STOVE
To make the Ideal Steel Hybrid Wood Stove affordable, we changed from cast iron to steel as our basic building material. Steel costs about half as much per pound as cast iron. We believe that the Ideal Steel Hybrid Wood Stove is the most efficient, cleanest, and longest burning stove in its price range.
HxWxD (Max. Leg Height): 35.5"x29.5"x27.5"
HxWxD (Min. Leg Height): 30.5"x29.5"x27.5" (No Ash Pan)
Firebox Size: 3.2 Cu. ft.
Wood Length (Maximum): 22"
Weight: 620 lbs.
Leg Height Adjustment: 5" (in 1" increments)
Burn Time: 10-14 hrs
Area Heated: up to 2,200 sq.ft.
BTU Output: 9,323-43,263/hr (per EPA cord wood 2020 tests)
EPA Efficiency (HHV): 77%
Combustion System: Hybrid (Catalyst & Secondary Air)
EPA Emissions: 0.89 grams/hr (per EPA cord wood 2020 tests)
EPA 2020 Certified: Yes
Catalyst: Standard 2100 Degree Stainless Foil
Easy Catalyst Access: Just Lift the Top Lid!
Multi-temp Cooktop: Optional
Flue Exit: Top or Back
Flue Size: 6" Draft Control: Manual
Flue Height to Center (Max Ht): 29.5"
Flue Height to Center (Min Ht): 24.5"
Window Size (viewable): 12"H x 17"W
Loading Door: Front Only
Bottom Heat Shield: Standard
Ash Pan: Optional (can't retrofit to stove)
Rear Heat Shield: Optional
Stove Rear Clearance (No Protection): 14"
Stove Rear Clearance (w/ Heat Shield): 6"
Stove Side Clearance: 19"
Stove Corner Clearance: 6"
Mobile Home Approved
Soapstone Firebox Liner:
Enjoy the deep, even heat of soapstone by adding a soapstone liner to your Ideal Steel firebox. Soapstone's thermal mass is much greater than conventional firebrick, so ordering a soapstone firebox will increase your comfort and decrease your fuel use. 99.9% of our Ideal Steel customers purchase the soapstone firebox liner.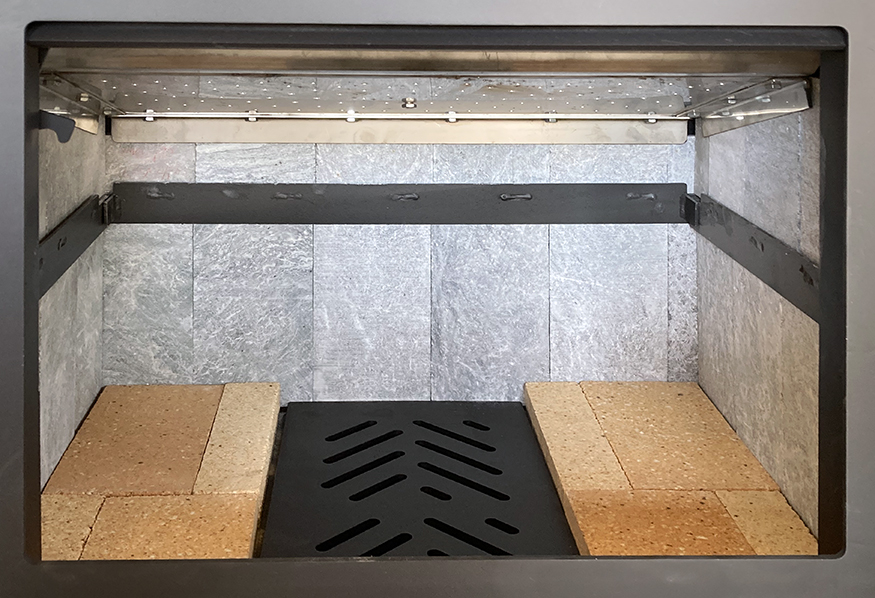 Ash Pan Assembly:
Instead of shoveling hot coals and ash through the load door, add the ash pan assembly to your stove. The kit includes a slotted firebox floor panel, a sealed housing with gasketed access door, a lower heat shield, and a removable ash pan with lid. 95% of our Ideal Steel customers purchase the ash pan assembly.

Soapstone Side Panels:
Build more soapstone into your stove and further increase its capacity to retain and radiate heat throughout the burn cycle. In addition, soapstone side panels add one-of-a-kind beauty to your stove. The stone's natural colors and textures add contrast to your side medallion artwork.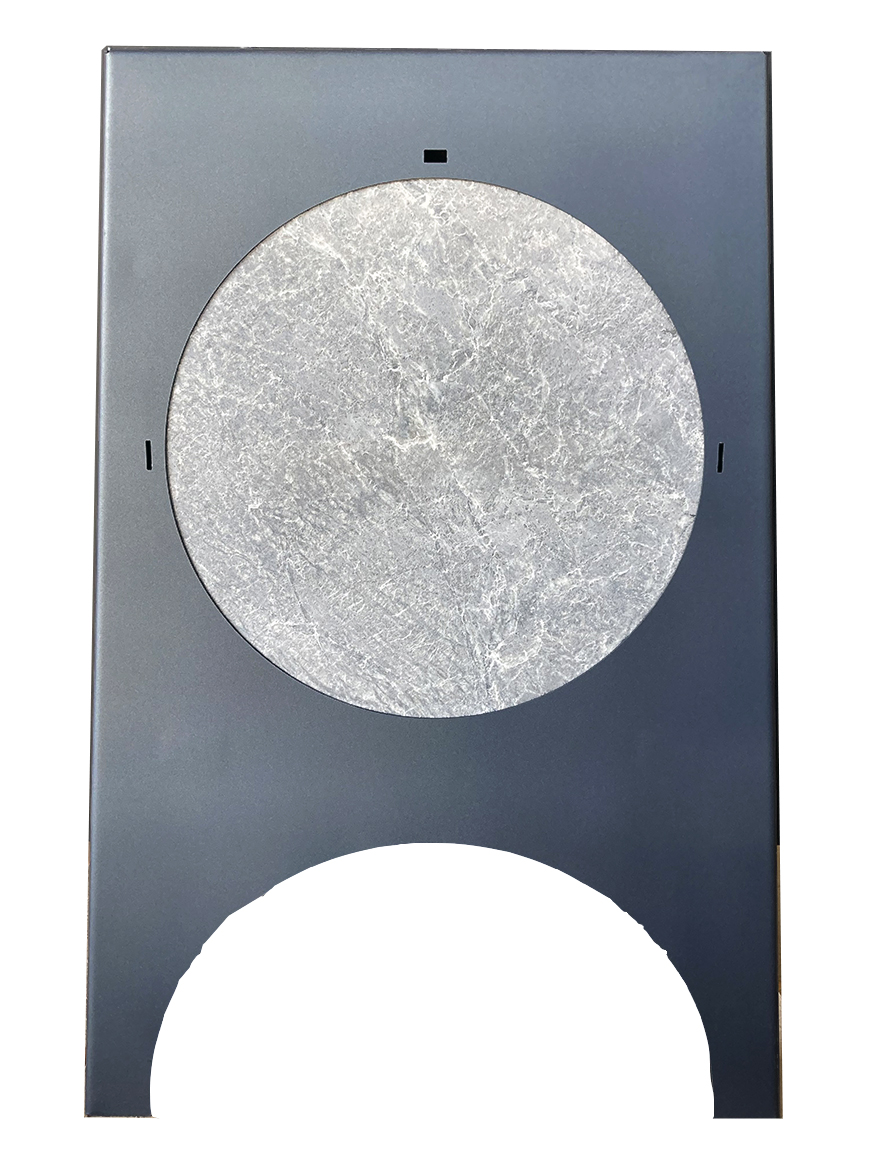 Side Medallions:
At 14.5 inches in diameter, the side medallions are the largest artworks on your Ideal Steel. With over 100 designs to choose from, your side medallions provide a great opportunity to match the character of your stove to your personality. The cut-away spaces in your medallions' artwork reveals the soapstone side panels in your stove's fenders.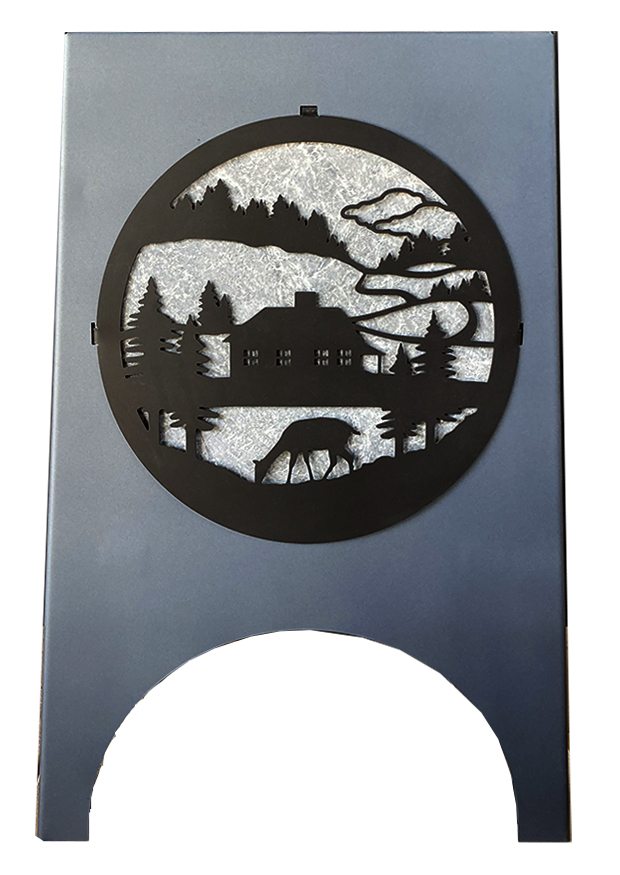 Center Top Burner:
The customizable center top burner is the largest burner on your Ideal Steel's top lid. Because it is located directly above the catalytic combustor, the highest cooking temperatures are achieved by removing the center burner to expose a recessed stainless steel cook surface. The center burner can be removed with the "helping hand" tool that comes with your stove.

Top Side Burners:
On either side of the center top burner, the left- and right-side burners provide additional opportunities to add custom artwork to your stove. For wood stove cooks, these burners are best for long simmering recipes.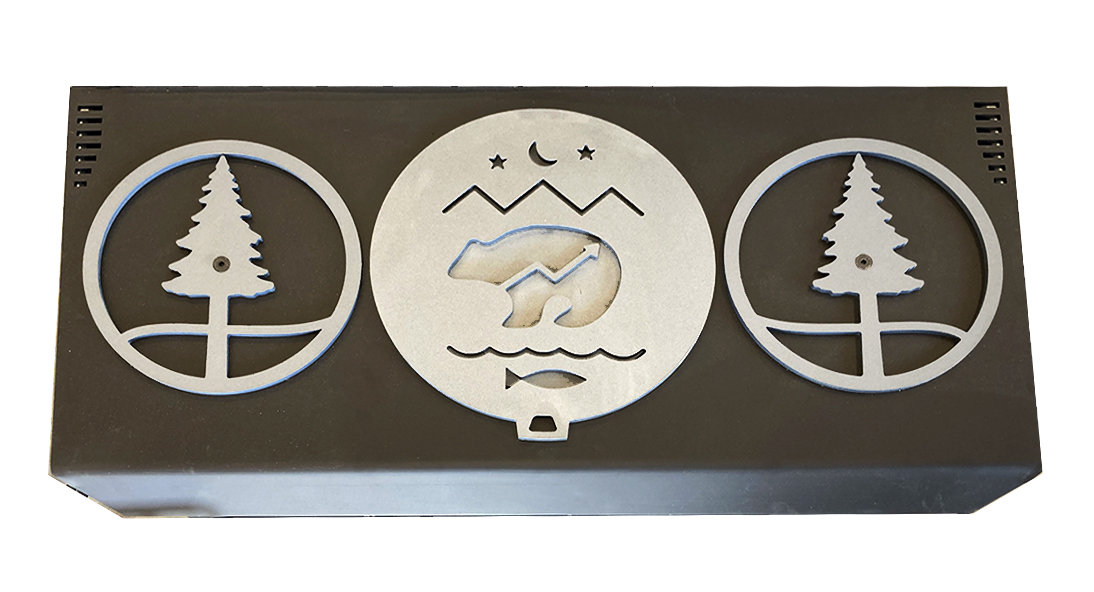 Andirons:
The andirons protect your load door glass from shifting logs as your stove cycles through its fuel. Tip the andirons forward to load the stove with easy access, then pivot them back before closing the door. The customizable designs look great silhouetted by the flames.