HIGHLIGHTS
Penetrating soapstone warmth

Handmade for 25 years in New Hampshire

Detailed iron castings and thick double walls of soapstone

Heat up to 1600 square feet

Burns up to 12 hours

Crystal clear fire-viewing

Unique airwash keeps window free of soot and ash

Protects against power outages: no electricity required

Factory-direct prices

Six-Month Risk Free Trial

Iron castings available in 5 colors: matte black, charcoal, and metallic gray, blue, or brown
PERFORMANCE
Now EPA 2020 Certified!

High 2020 Efficiency ratings! 78.5% HHV & 84.4% LHV

Suitable for large homes, up to 2200 sq.ft - easily

Ultra low .63 gm/hr average wood stove emissions

Long 14+ hour burn time

Comfortable, even soapstone warmth

Stunning view of the fire - watch the fire and watch gasses combust in the upper part of the viewing window
Standard 10" Legs HxWxD: 33.5"x30.5"x25"
Short Legs HxWxD: 28.5"x30.5"x25" (no ash pan)
Firebox Size: 2.8 Cu. ft.
Wood Length (Maximum): 22"
Weight: 700 lbs.
Burn Time: 10-14 hrs
Area Heated: up to 2,200 sq.ft.
BTU Output: 13,149 - 47,220 BTU/hr (per EPA 2020 tests)
2020 EPA LHV Efficiency: 84.4% LHV
2020 EPA LHV Efficiency: 78.5% HHV
Combustion System: Hybrid (Catalyst & Secondary Air)
EPA Emissions: .63 grams/hr (EPA 2020 cordwood test)
EPA 2020 Approved: Yes
Catalyst: Standard 2100 Degree Stainless Foil
Easy Catalyst Access: Just Lift the Top Lid!
Draft Control: Manual
Multi-temp Cooktop: Standard
Flue Exit: Top or Back
Flue Size: 6"
Flue Height to Center (10" legs): 27.75"
Flue Height to Center (short legs): 22.75"
Loading Door: Choose Right or Left
Bottom Heat Shield: Standard
Ash Pan: Optional with 10" legs
Rear Heat Shield: Optional
Stove Rear Clearance (No Protection): 36"
Stove Rear Clearance (w/ Heat Shield): 7"
Stove Side Clearance: 24"
Stove Corner Clearance (w/ Heat Shield): 12"
FREE OPTIONS
Left or right door (when facing the stove) - pick the most convenient for your installation

5 Standard cast iron colors - choose the one which goes best with your decor: Black, Charcoal, Metallic Blue, Brown, or Gray

Back or top vent - standard reversible flue collar

Short legs kit for fireplace installation - free in place of standard long legs

Free 3 burner cast iron cook top (shown below). Included free with every Progress Hybrid Wood Stove. To read more about our cooktop.
OPTIONS
Ash pan and bottom grate for easy ash removal. Biggest ash pan in the wood stove industry.

Outside Air Adapter - connects outside air to stove damper and air intake

Heat Shield- reduces the rear clearance to just 7"

Pipe shield - reduces singlewall stove pipe clearance to 6"
PHOTO ILLUSTRATIONS
Cast Iron Color

Ash Pan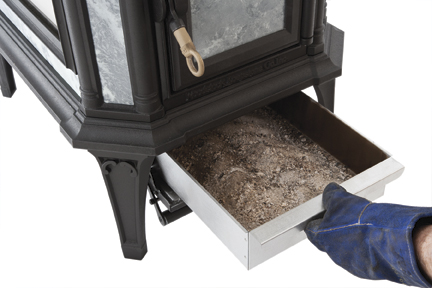 Top Vent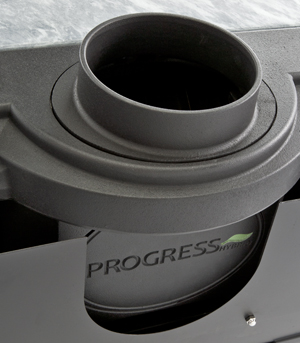 Rear Vent