Unique Hybrid Design
The Progress is a HYBRID because it uses both a catalytic combustor and a secondary combustion system. Until the Progress was introduced in 2011, EPA certified wood stoves used one or the other. The Progress gives you the best of both systems - combined. A catalytic combustor breaks down the compounds in wood smoke at internal temperatures as low as 500 degrees F, allowing complete combustion,high efficiency, and ultra low emissions of 0.63 gm/hr. The secondary combustion system engages as exhaust temperatures reach about 1000 degrees F. You get a clean and very efficient burn throughout a wide range of burn rates, squeezing every last BTU from the wood you burn.

Stunning Fire Display
Our hybrid burn technology produces one of the best fire displays in the industry! You'll be mesmerized watching the fire dancing around the firebox. Pour a drink, kick up your feet, and enjoy the "fire-works".

Hybrid Stove Construction
The Progress Hybrid Wood Stove also boasts two layers of soapstone, 1.125" thick soapstone bricks inside, and 0.75" exterior soapstone panels. Between the two layers of stone is a 7 gauge welded steel body box. The stove is then finished with a decorative cast iron frame, available in five standard color options: matte black, charcoal, metallic blue, metallic brown, or metallic gray.

Cast Iron & Soapstone Cooktop
Our versatile cooktop is included with every Progress Hybrid Wood Stove - at no charge! Simply lift the soapstone to reveal a 3 burner cast iron cooktop. With no electrical power required you can heat and cook when the power goes out!
HIGHLIGHTS
Now EPA 2020 Certified!

High 2020 Efficiency ratings! 78.5% HHV & 84.4% LHV

Suitable for large homes, up to 2200 sq.ft - easily

Ultra low .63 gm/hr average wood stove emissions

Long 14+ hour burn time

Comfortable, even soapstone warmth

Stunning view of the fire - watch the fire and watch gasses combust in the upper part of the viewing window
Standard 10" Legs HxWxD: 33.5"x30.5"x25"
Short Legs HxWxD: 28.5"x30.5"x25" (no ash pan)
Firebox Size: 2.8 Cu. ft.
Wood Length (Maximum): 22"
Weight: 700 lbs.
Burn Time: 10-14 hrs
Area Heated: up to 2,200 sq.ft.
BTU Output: 13,149 - 47,220 BTU/hr (per EPA 2020 tests)
2020 EPA LHV Efficiency: 84.4% LHV
2020 EPA LHV Efficiency: 78.5% HHV
Combustion System: Hybrid (Catalyst & Secondary Air)
EPA Emissions: .63 grams/hr (EPA 2020 cordwood test)
EPA 2020 Approved: Yes
Catalyst: Standard 2100 Degree Stainless Foil
Easy Catalyst Access: Just Lift the Top Lid!
Draft Control: Manual
Multi-temp Cooktop: Standard
Flue Exit: Top or Back
Flue Size: 6"
Flue Height to Center (10" legs): 27.75"
Flue Height to Center (short legs): 22.75"
Loading Door: Choose Right or Left
Bottom Heat Shield: Standard
Ash Pan: Optional with 10" legs
Rear Heat Shield: Optional
Stove Rear Clearance (No Protection): 36"
Stove Rear Clearance (w/ Heat Shield): 7"
Stove Side Clearance: 24"
Stove Corner Clearance (w/ Heat Shield): 12"
STANDARD INCLUDED OPTIONS
Choose between left or right door (when facing the stove) - pick the most convenient for your installation.

Choose between 5 Standard cast iron colors: Black, Charcoal, Metallic Blue, Brown, or Gray

.

Back or top vent - standard reversible flue collar included with each stove.

Short legs kit for fireplace installation - free in place of standard long legs.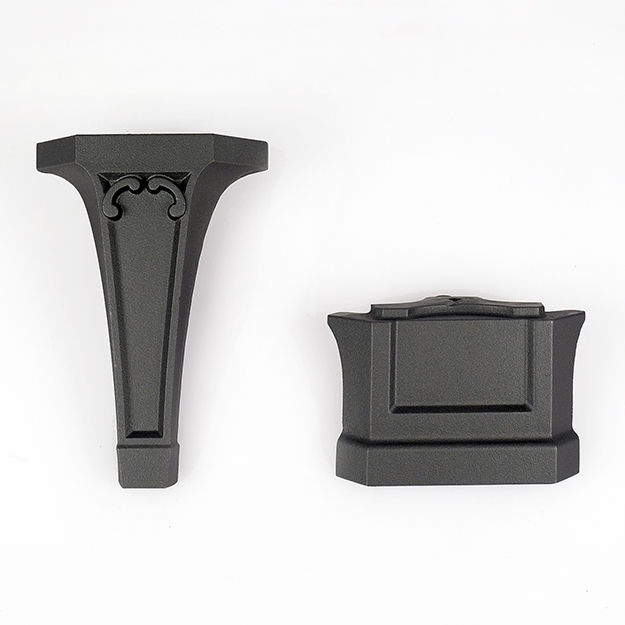 Three burner cast iron cook top, located below three soapstone top panels – included with each stove.




Built in outside air adapter with 4" collar, included with each stove at no cost.
OPTIONS
Ash pan and bottom grate for easy ash removal. Biggest ash pan in the wood stove industry.



Front heat shield, "Ash Lip" reduces the front hearth clearance from 12" to 8" when combined with the tall legs. If ordering the short legs, the ash lip is required and the clearance is 12".


Heat Shield- reduces the rear clearance to just 7"

Pipe shield - reduces singlewall stove pipe clearance to 6"