Our 6 Month Money-Back Guarantee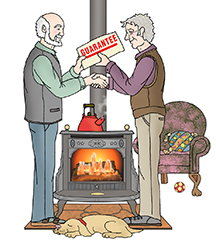 Have you experienced the radiant heat of soapstone? Are you wondering about our clean, energy efficient catalytic combustor technology? We have received hundreds and hundreds of unsolicited testimonials from our happy customers, but there is nothing like trying it out in your own home, seeing and feeling for yourself.

Each of our Woodstock Soapstone stoves comes with a risk-free
6 Month In-Home Trial
This is by far the best guarantee in the stove industry.
Enjoy the radiant, efficient and gentle heat of a Woodstock Soapstone stove in your home for up to six months. If you are not entirely delighted, we will buy the stove back from you for the price you paid. We even cover the cost of the return shipping!

You may wonder how we can afford to do this. It's because our stoves are built by skilled New England craftspeople, one at a time, right here at our factory & showroom in West Lebanon, New Hampshire. We know our stoves inside and out from top to bottom. We are all proud of what we do and it shows! When you make a quality product, you can afford to stand behind it with confidence.