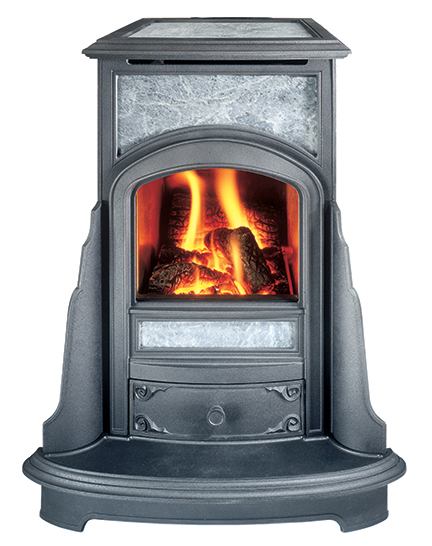 "Our Cottage Franklin gas stove kept our whole 2700 sf home above 60 degrees for the four days we had no heat (or power) during the December ice storm. People couldn't believe how warm our house was with our 'cute little green stove'."
—Jan & Charles H., MA
"We're saving 30% on gas consumption and have added a new focal point to a great room. Thanks! P.S. Our new dog & old cat now sleep together at the fireplace."
—Robert G., NJ
"I wanted to add our testimonial to your collection. I recently finished over 500 sq feet of our split level home. While the new space serves many purposes for family and friends, it really comes alive in winter with the Cottage Franklin stove. My family simply loves it. So too do our cats, our neighbors, and everyone else. It's benefits are hard to list. Older folk love the bone warming heat it gives off. The cats fight over sitting rights. Everyone that comes over remarks how warm and comfy our family room is. It makes it very easy to spend the long Chicago winter days entertained and warmed in our family room.
I am relieved that we have a heat source that does not need electricity and can switch to propane in a pinch to keep the house warm. From start to finish your company has been stand out in helping to get the most out of this stove. It really has added to the quality of our lives. Words do not do it justice. If you do not have a feature like this in your home or vacation home, you are losing out. Get one. We will never be without one in the future. I promise. Thank you, Woodstock!"
—Patty B., IL
"We have enjoyed our Cottage gas stove for about 5 years. It has been very good to us. When Hurrican Sandy hit we lost all our power and it was your little stove that helped keep our house warm. What a blessing. Thank you for making such a great product."
—Frank S., NJ
"Obtained your Cottage gas stove about this time last year. Am most pleased with results. That stove is a real winner! Thank you."
—Michael Y., NH
"Absolutely love the stove. It's just beautiful and it heats great. Everyone was so helpful and well informed—answered all my questions."
—Leandra L., WA
"The Cottage stove was installed in our four season sun-room, and it was the best design and functional decision we made. Everyone who sees it is amazed at its beauty and design."
—Patricia M., IL
"Excellent stove and beautiful to boot! Installation was easy and we did it ourselves. The propane hook up was not a problem and the propane man said it's the best stove he's ever seen!"
—Maria M., MT
"It's in our family room and it's the best heat investment we've ever made. Now if the power goes out we'll still have heat!"
—Rick & Judy A., MI
"We can go away overnight and depend on the gas stove to keep the home from freezing up. If we are ill and hauling wood is an issue, again, we can depend on the Cottage Franklin gas stove. A win-win situation for us."
—Cheryl & Ron R., BC, Canada
"I was happily and pleasantly surprised at how easily it went. I'm a single, 50's aged woman and I did it all myself!"
—Linda F., NM
"I enjoy my Cottage Franklin gas stove very much. It provides steady heat to my well insulated basement and is especially loved by our cat Sky. She often sleeps near the stove and even watches the flames at times."
—Jan P., WI
"Just a note about how much we continue to enjoy our Cottage Franklin LP gas stove.
The appearance of the flame is very enjoyable, and we appreciate the lack of any blower noise. The economy of the stove is impressive. We use much less LP gas than we anticipated.
We've found that the concentric stove pipe reaching to the ceiling serves as a very effective economizer. The heat of the exhaust gas is transferred to the incoming combustion air, reducing the amount of gas burned. In addition, a significant amount of heat is radiated into the room from the tall pipe, also reducing the amount of gas burned."
—Kenneth S., WA
"Will recommend you to anyone interested. I wish everyone was as helpful and professional!!!"
—Barbara B., CT
Click here for more information about the Cottage Franklin gas stove.