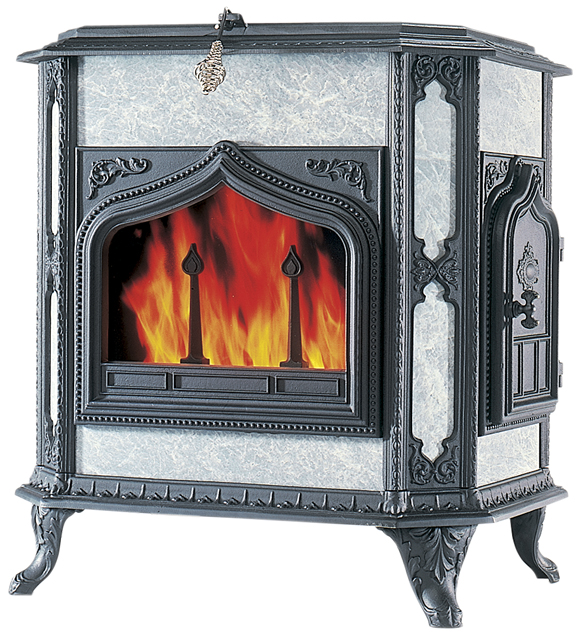 "This is the wood burner that I think is the best in the country."
—Allan W., CO
"We purchased our Fireview ten years ago and it is the only heat we have for our 130 year old house. Our winters here in the Eastern Sierras can reach -40 degrees and last from October through April. We LOVE our stove. Everyone asks about it, and we tell them to look you up!"
—Denise E., CA
"It was -9 yesterday and it will be -19 tonight and the Fireview stove I put in 4 days ago is heating my whole house! My cats lay all around it and the heat is gentle. Watching the fire is wonderful, now the heat stays in the house instead of going up the chimney.
Last winter we lost power for 3 days and it was miserable. We are ready for anything now.
Thanks for a great quality product."
—Bob Z., IL
"During the ice storm, we were without power for 12 days. While our neighbors ate cold meals and survived freezing temps, (and pipes), or left their homes for friends or shelters, we stayed reasonably warm and enjoyed pot roast, beef stew, baked potatoes and hot soups thanks to our fireview. It was a lifesaver.
Thanks for a great product and a great company!"
—Roy S., NH
"Well, it's in the teens here (Middle Tennessee) and our Fireview is roaring! Our Central system hasn't kicked on (except early morning) for a week. I think I'm in LOVE. Thank you guys for building it, good work!!!"
—Julia H., TN
"We have been extremely impressed by the quality and functionality of our Fireview stove. Don't let its small size fool you! It puts out an amazing amount of 'comfortable heat'. We love how the soapstone provides amazingly steady heat. Gone are the days/nights of blazing hot fires, followed by an icy cold stove and room after the fire goes out. The soapstone really provides a longer, less stifling heat. We have received numerous comments this Summer about how pretty the stove is, even when not burning. We could not be more pleased with this stove. I wish we had a larger house so that we could have two of these wonderful stoves!"
—Ricky C., ME
"I have been around a number of wood stoves in my lifetime; and the Fireview Woodstock Soapstone stove is by far the best stove I have ever seen. The even heat that the Soapstone provides can not be matched by any ordinary stove. The design of the Fireview has also provided many hours of enjoyment, watching the fire through the glass. Not once have I ever had a problem with the glass clouding up. Unlike some stoves I have seen that cloud up with a single fire. I also like the easy access to the catalytic system, as changing the catalyst will be a breeze."
—Mike Z., WI
"We've had it a full season, and it's just bloody awesome. We show it off to everyone who comes over, and extol the environmental benefits of catalytics...that and the efficiency were the major attractions for us, and the stove has not disappointed.
-yeah, the stove exceeds our expectations. I LOVE being able to come down in the morning, stir the coals about, and get it going again with minimal hassle...above all, I love the fact that the little heat-driven fan atop the stove is still going. An owner quickly becomes attuned to the morning correlation between stove temp and inside conditions and fan speed.
We learned long ago the value of assuring dry storage for our wood, and strive to make sure that everything headed for the stove is crackling dry...dusty, perhaps, but dry. Makes a huge difference.
The winters in New England make me love the summer. And your stove makes me love the winter!"
—Bob & Diane C., CT
"We have enjoyed our stove all winter. Reveled in it actually. And all who come to visit me are enthralled. So, please advise those who made it that their craftsmanship is recognized and admired! Thanks to all who have answered the phones also. Not a mean one in the bunch."
—Ed & Adele W., SC
"This is our second year with our stove and we love it!! We used way less than half a tank of oil for last winter! Can't believe how wonderful this stove works! Plus it is sooo beautiful! We are very happy with your product."
—Gale S., PA
"This is the second winter for my Fireview. It's everything you said it was. I really enjoy my stove."
—Glenn T., IL
"We love the one you sent us so much, that we want to give your Fireview to my wife's parents. Thank you again for a beautiful stove."
—Rick & Debbie S., ID
"Our soapstone Fireview stove is truly a masterpiece. We doubt whether we'll ever become tired of enjoying it. We think it's such a beautiful stove and cannot say enough good things about it."
—Jacqueline S., TN
"Your stove saved my life. We've been without electricity for seven days. We used your Fireview for heating, cooking, melting snow... Only thing it doesn't do is play music. The man who designed it is a genius. The market for your stove in Maine is as never before."
—Martin R., ME
"We found you to be very helpful, dealing across the United States. We chose your stove from the info, brochures and video, provided by you. Because of this, we had numerous questions, some regarding specs and installation, all of which were answered completely and satisfactorily. We love our stove! So in essence, we bought our stove sight unseen & are not the least bit disappointed. It's beautiful."
—Dave M., NV
"I believed when I bought my 2nd Woodstock Soapstone stove I was getting good products. Now I'm convinced I not only have good stoves, I'm dealing with a responsible, caring company. Thanks for your prompt and hassle free response when the damper lever on my stove broke recently. I continue to talk proudly of my stoves and their makers—I don't know if any purchases have resulted but I'll continue singing their praise!"
—Will & Lora M., WI
"Our house is over 2000 sf and the only heat used in the winters was our Fireview. It's on one floor and ceiling fans and a 10" box fan on a ledge behind the stove keeps the whole house very cozy, plus our 24 x 24 garage above freezing, around 40° - 50° in the coldest part of winter."
—Thomas G., WI
"It's the best improvement we made for the house and it heats the whole house… Neighbors tend to tour the place, too."
—Kathleen G., IL
"I would like to compliment you on your wood stoves. It is some of the best craftsmanship that I have seen in a long time. Everyone at your company should be proud of the product that they turn out. Please tell everyone that we love the looks of the stove and the way it radiates the heat in our home."
—Doug C., MI
"We are writing to tell you that our experiences with the Woodstock Soapstone Company have exceeded our expectations. From placing the order for our Fireview, to receiving the stove, to building the first fire, we have been very satisfied. We have found that the quality of the stove surpasses what the literature claims. Also, the appearance and efficiency of the stove have been commented on, positively, by our friends. Thank you for an excellent product."
—Jerry B., SC
"We have enjoyed lots of warmth from the stove—from splitting the wood to sitting in front of a crackling fire. The stove is lovely and I'm prejudiced, but I think my husband did a marvelous job on the installation—all his own idea. We've had many compliments on the stove, and being able to pick out the one I thought had the best colors was an added plus. Of course, I think mine is much prettier than my father-in-law's! We certainly enjoyed meeting all of you when we came to pick up the stove. Although I hope this winter isn't as severe as the last, I know we'll be toasty with our wood stove. What a great product!"
—Jane & Jack B., NJ
"Everyone that visits remarks on how beautiful it is. Besides it adding such a cozy pleasing look to our den, it is amazingly efficient. Even after letting a small evening fire die down, the stove is still warm the next morning. It is so easy to use. Making the decision to buy a soapstone stove definitely was the right choice. We know we will enjoy it for years to come. Thank you for all of the questions we've called about on the purchase/ setting up process—your staff was always courteous and knowledgeable."
—Anna & Ed A., NY
"I want to thank you for providing an excellent product, and outstanding customer service. My husband and I really enjoy the beauty of the Fireview stove and the wonderful heat it produces. From the day we first ordered your video to this day, your employees have always demonstrated superb customer service skills. In today's world of automation it is nice to call a company and to be able to talk to people when you need to. Your employees are well informed, pleasant, polite, and overall efficient... We will continue to inform friends and family about your company. America needs more companies like yours."
—Viola A., NM
"I do believe this stove is the best wood stove ever made. Buying this stove was the best money I ever spent."
—Joyce A., CA
"Just like to let you know how your soapstone stove is working for us.
We bought a Fireview in 2005. We placed it in our earthhome which is very energy efficient. Our home is four feet under ground, small windows, facing south, and as much extra insulation as we could install. We live in northern North Dakota and had a lot of -30 degree nights this year.
Our house is 1450 square feet, but we could not let the stove burn for more than 24 hours, maximum. Then we would have to let it go out for 2 or 3 days just to get the temperature down. We are also using poor wood. We can fill the stove, let it burn for up to 16 hours, throw in some kindling and the fire would start right up.
If I ever build a new house again I am going to buy a new Soapstone stove and set it on the ground and build the house around it."
—Larry J., ND
"I'm writing to tell you how pleased I am with my new Fireview woodstove. The whole process of buying was simple and straightforward. You were very accommodating when I called to see if the stove could be shipped quickly because we were expecting -25 degree temperatures and I wanted to be warm for a change. The stove has not gone out since I got it and it has kept me warm regardless of how cold it is here. Since I live in a very rural area, I need to have heat whether there's power or not, and wood is the best way for me to get it."
—Mary C., ME
"I am very very satisfied with my Woodstock Fireview Soapstone stove. In fact, I love it! Everyone that comes to see it immediately recognizes the quality and beauty of the stove."
—Wayne S., MA
"Your service is great and so are your stoves. We are beginning our second winter with our stove and it has done all you claimed. It is a wonderful comfortable heat with no 'static' electricity that comes from forced air systems. The stove is beautiful too. It is the first thing most people notice when they enter our home. Thanks for a great product!"
—Alan & Heather J., NC
"Your stove and company are all that you said they were—wonderful. You folks are great. We love our stove! It is easier to use and more efficient than any stove we've owned before—including Jotul and Vermont Castings. It cranks out the heat and is beautiful in the process. Thank you—sign me warm in West Virginia."
—Susan R., WV
"Your service was superior as was your staff - from your sales personnel to your warehouse staff. We love our stove and it is all that Woodstock stoves said it would be."
—Donald P., MA
"We really love our stove, and you made it a pleasure to purchase it. That rarely happens any more! I don't mind spending what seems like a lot of money for something I really want—but I want to have fun doing it. Thanks for reminding me that it can still happen!"
—Janet G., CO
"Once we hooked the stove up we had 10 days of -35 degree days or colder. Thank you again Woodstock Soapstone—it's beautiful, works great, and the best stove we've ever had!"
—Jonathan S., WI
"The stove is all you said it would be. The heat is gentle and inviting—not too hot or too cold, as with steel stoves. Thank you for producing a fantastic product!"
—Martin B., CA
"I love it! It's the best stove I've ever had, the best company to deal with, and the best information provided!"
—Robert R., ME
"We were skeptical ordering the stove sight unseen—even after viewing your tape, but when we unwrapped our stove we were so impressed by it's looks. Once we hooked it up and got it running we were even more impressed. We absolutely love our new stove. Thank you for taking such pride in your workmanship!"
—Debbie L., PA
"Your company has the nicest, most helpful people I have ever dealt with. The Fireview stove is beautiful and it gives this blue dancing flame. It captivates you. I love my stove and the people at Woodstock!"
—Mark H., OH
"My husband and I were in your area several years ago and took a tour of your facility and we were very impressed! So impressed that we purchased a Fireview that day! We used your handy layaway program and when we were ready, we had it delivered. It was in perfect condition and even more beautiful than we remembered!"
—Matt & Patricia P., NY
"I got the wood stove fired up 2 days before Christmas (the chimney man was here I had to wait on him) and I can say that I first didn´t believe in the catalytic combustion, but now when I tried it, it is the best I ever used... I compare the heat that the stove produces with my friends that have "normal" stoves without catalytic combustion... and of course the long burning times... I am still learning how to use it but so far during over night burning I am at 8 hours... so I am more than pleased....
And the shipment from you worked out very good, it was sent from New Jersey with the company JET Carrier…
Please don't hesitate to contact me if you want any kind of recommendations to this product.
Have a nice day, and thank you for your good support it was the best!
Med vänlig hälsning."
—Robert J., Sweden
"I spent a great deal of time researching a stove before purchasing the Fireview. I could not find one negative review and that made up my mind. I was worried about the difficultly of using a stove with a catalytic combuster. The instructions which came with the stove made it seem simple. In fact it is, far easier than I had imagined. I purchased my Fireview in January but could get it hooked up until Feb 12th. First off, the stove is very attractive, far more than my wife and I and our friends expected. I have only used wood since it was installed and the temps have been down to -14F. We have been very comfortable and are using less wood than we expected. I have a new 1344 sq ft home on a plateau where the wind has been blowing shingles off the roof of my garage. We have to be careful or the house is too warm. What an incredible stove. Beautiful and efficient. We are getting burn times of 12 hrs. Thanks for making such an extraordinary stove. It has exceeded our expectations."
—Rich O., ME
Click here for more information about the Ideal Steel 210 wood stove.