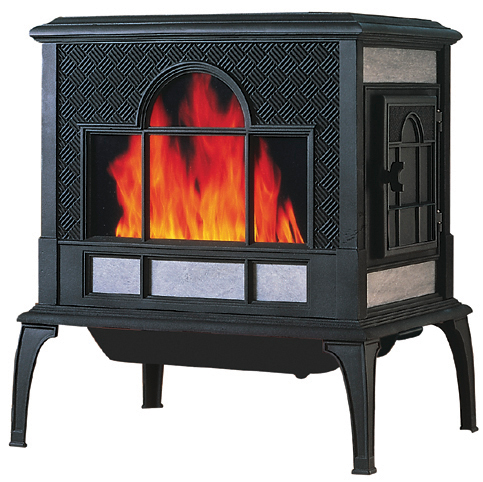 "Our friends and contractor have complimented us on a fine purchase!"
—Donald & Patricia G., NY
"About 10 years ago, I was visiting a friend in her cabin. The event was to see her new wood stove. Now I know how important a good stove is, having grown up with or around all manners of coal and wood burning stoves my entire life, but I have to admit to being amazed by her newest acquisition. Soapstone? Who knew? And it was green, and threw off heat like nobody's business! All that from one small, almost prissy little wood burner? Naw! That's when I realized that a wood stove can be--well-- sexy, and I knew without a doubt that given the opportunity, I, too, would have one just like my friend."
—Donnamarie E., VA
"Some people like to look at their aquarium and fish to relax, for me, watching the gossamer flames through the window of our Palladian is about the most tranquil thing I have found. The stove is the central feature of our family/great room."
—John & Eva R., FL
"With gas prices having gone through the roof, Woodstock Soapstone stoves are the only way to go. My place is about 1100 sq. ft. and the Palladian does a great job of providing even, constant heat."
—Yuri D., CT
"We've had your Palladin stove for well over 20 years now and something that I noticed that is noticeably absent from your comments is the fact that you are one of the few wood stove companies that is continually improving and upgrading their products. This is no exception with your Palladin. Over the time that we've owned this, even the catalytic converter design has been changed 3 times to make it that much more efficient and user-friendly when we do our annual cleaning of the stove every year. But, some people think of wood stoves in the vein of the cast-iron variety.
Previously we had an old school cast iron stove that, while it worked, the heat produced by it was unbearable at times. I have very vivid memories of my grade school days with myself and my friends sitting in our family room wearing shorts and a t-shirts when it was 10 below outside because the stove put out THAT much heat. But it wasn't a comfortable heat at all and we had to have at least three humidifiers going just to make it bearable! There was one instance where it got so cold outside that no matter how far we dampened down the stove the stove started running away, combustion wise. We had candles affixed to the wall in our dining room a good thirty feet away and the candles were wilted due to the heat! NO such a problem with your products!! It creates a very very livable radiant heat that has to be experienced to be appreciated. And the build quality of your product is just the tip of the iceberg- your stoves are absolutely the most efficient I've ever seen!
Previously with the old cast-iron monstrosity, we burned between 6 to 10 cords of wood a winter and that's from October through April. Now the same exact mix of Hardwoods (Oak, Maple, etc) we're down to five cords and even less a heating season! THAT is a HUGE cost savings, especially with a cord of wood retailing for $225 currently here. And not only does the catalytic converter allow the stove to burn more efficiently but it also cuts down a lot on chimney cleaning! What used to be buckets full of creosote that we'd brush off the walls of the chimney is now down to something like four to five cups of creosote. That also means there's a lower chance of having a chimney fire which is something that is not insignificant, especially after you experience one like we did with our old cast iron monster.
And, to complete review, I also have to state how excellent your customer services been over the span of time we owned the stove. Anytime there was an issue with a broken part or some other problem, we were able to talk DIRECTLY an engineer (THANKS Jaime!) who was able to reengineer said parts to make them more resilient and or function appropriately. Name me another woodstove company that has THAT level of Customer service… I'll wait. That's right -there isn't one that I can find anywhere other than yours!
Thank you so much again for building such a wonderful product that has actually EXCEEDED our expectations and 20 years later continues to perform and look just like it did when we first received it. An absolute must for folks looking to get into wood stoves!"
—Michael & Patricia L., MA

"We recently built a new log home, and as part of the home we decided to install a new Palladian soapstone stove! This has been, without a doubt, the best decision we made within the whole project. Not only is the stove very beautiful looking, but it has more than exceeded our hopes when we decided to purchase the stove instead of building a fireplace. It is a fact that the stove continues to heat for 8-10 hours after the fire has died down!! We could not be more pleased with our purchase, nor with the service we received from all of the many people we spoke with during the purchase process and with our follow-up calls."
—Scott & Sonya B., NY
Click here for more information about the Palladian 202 wood stove.