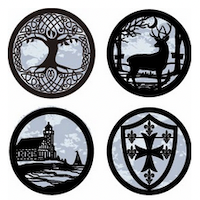 At Woodstock Soapstone, we work directly with our customers because it gives us the chance to know you. And we love making stoves as individual as you are.
Customization has been part of Woodstock Soapstone's design philosophy, and it sets us apart in the industry. Here's how:
Starting with the introduction of the first Fireview wood stove model forty years ago, every stove came with your choice of cast iron color: Matte Black, Charcoal, Metallic Blue, Metallic Gray, and Metallic Brown.
With the addition of the Keystone and Palladian wood stoves to our line, we offered customers two different cast iron facades, the opportunity to vent your stove from the top or back, and our first ash pan, all inspired by the feedback we received. Just like the Fireview, your choice of five cast iron colors remained.
When our Progress Hybrid wood stove came to market, expanded customization options included: an optional ash pan; the ability to position your load door, ash pan, and air intake controls on either side of the stove; and short or tall stove legs. Removable soapstone panels give customers access to their cooktops in part or in whole, depending on their needs. Our top- or back-venting carried over from the Keystone and Palladian models, as did your choice of five cast iron colors.
When the Ideal Steel wood stove was introduced, we took customization to the next level, way beyond anything other manufacturers aspire to. The many options available invite customers to find their perfect match of technology, aesthetics, and price. Optional components include: an ash pan, firebrick or soapstone firebox liners, soapstone side panels, top lid burners for cooking, andirons, adjustable leg heights, as well as the ability to vent from the top or back. There are eight different paint colors available and hundreds of artwork designs to choose from. Scroll through our Geared2U design book. You'll be amazed by what you find.
Following in the footsteps of the Ideal Steel, our Absolute Steel wood stove offers four different body styles: plain, triangle wing, curved wing, and our first ever high style stove—designed for customers who have trouble bending down. There are four different Absolute Steel artworks to choose from, along with nine colors for paint. Like the Progress Hybrid, the load door, ash pan, and air intake controls can be set of the right or left and your stove can vent from the top or back.
Our Survival Hybrid wood stove also comes with customization options. There are three artworks to choose from and eleven paints to match your style.
Our line of gas stoves can be customized, too. The Fireside Franklin, Cottage Franklin, and Mini Franklin gas stoves can be built for Liquid Propane or Natural Gas. The stoves come with optional remotes controls and thermostats. Depending on your home's layout, we offer six different ways to direct vent your stove, too.